'Transitory sketches'
2018
'Gatherings in the Garden: December 2018'
Casuarina needles, lily pilly leaf, casing from Christmas beetle, kangaroo paw flower, tawny frogmouth feather, Lord Howe Island hibiscus seed pod, casuarina twig, Christmas tree flowers, lily pily seed pod, angophora hisbida pod, dianella fruit, grevillia leaves…..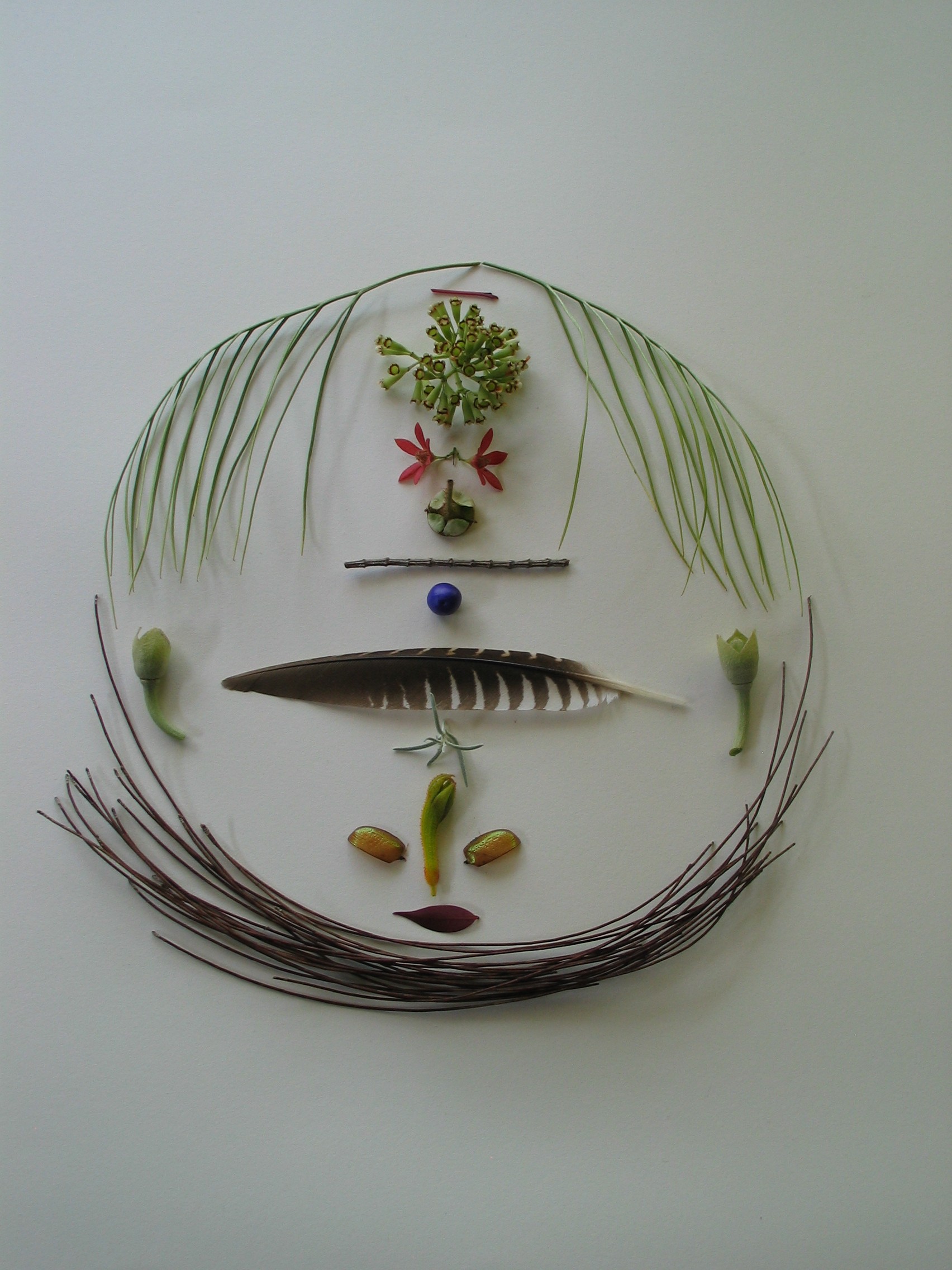 '……..from my collection: 2018′
Phragmites australis from Tamar Island,
feathers, stones, bones, leaves, wings, seeds, twigs, shells >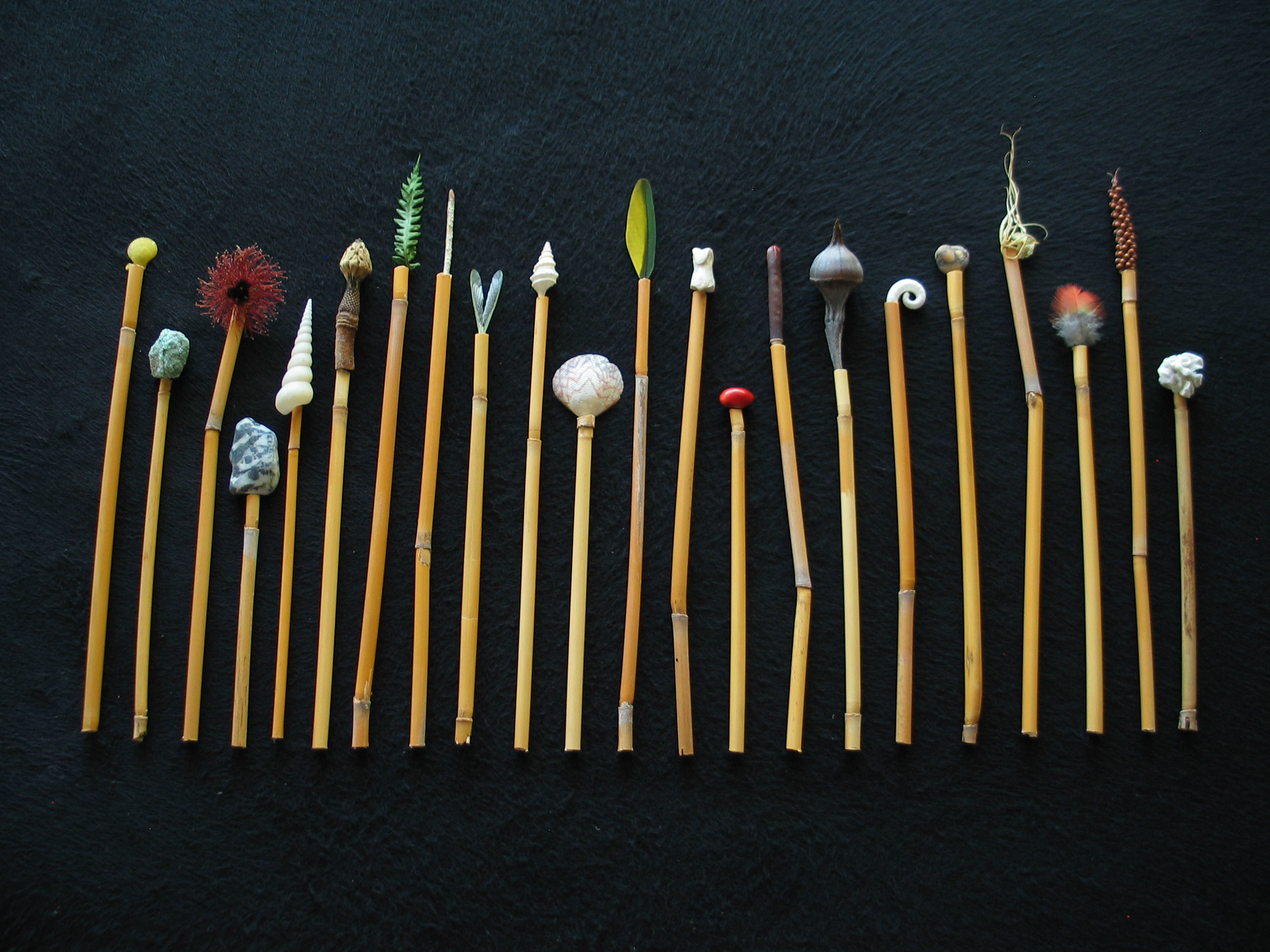 2016
'today in the garden at Bundeena'
 – ephemeral work – exists as photograph only – Bundeena – February – photo: Tim Cole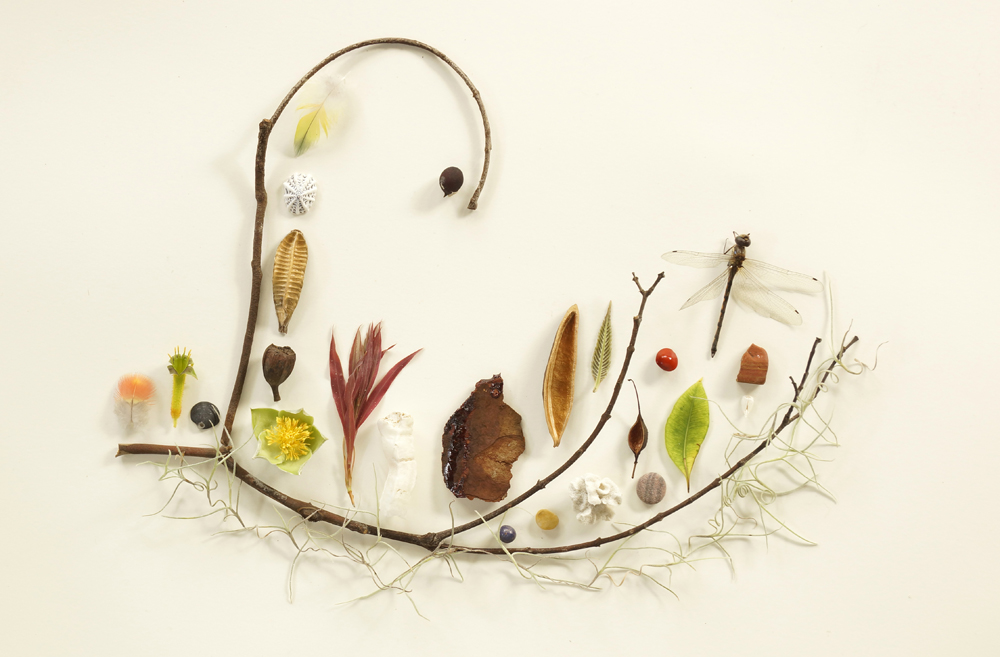 2015
'a walk to the shops at Bundeena'
- ephemeral work – exists as photograph only – Bundeena – November
 
"Gatherings"
 – ephemeral work – exists as photograph only – Bundeena – November – photo: Tim Cole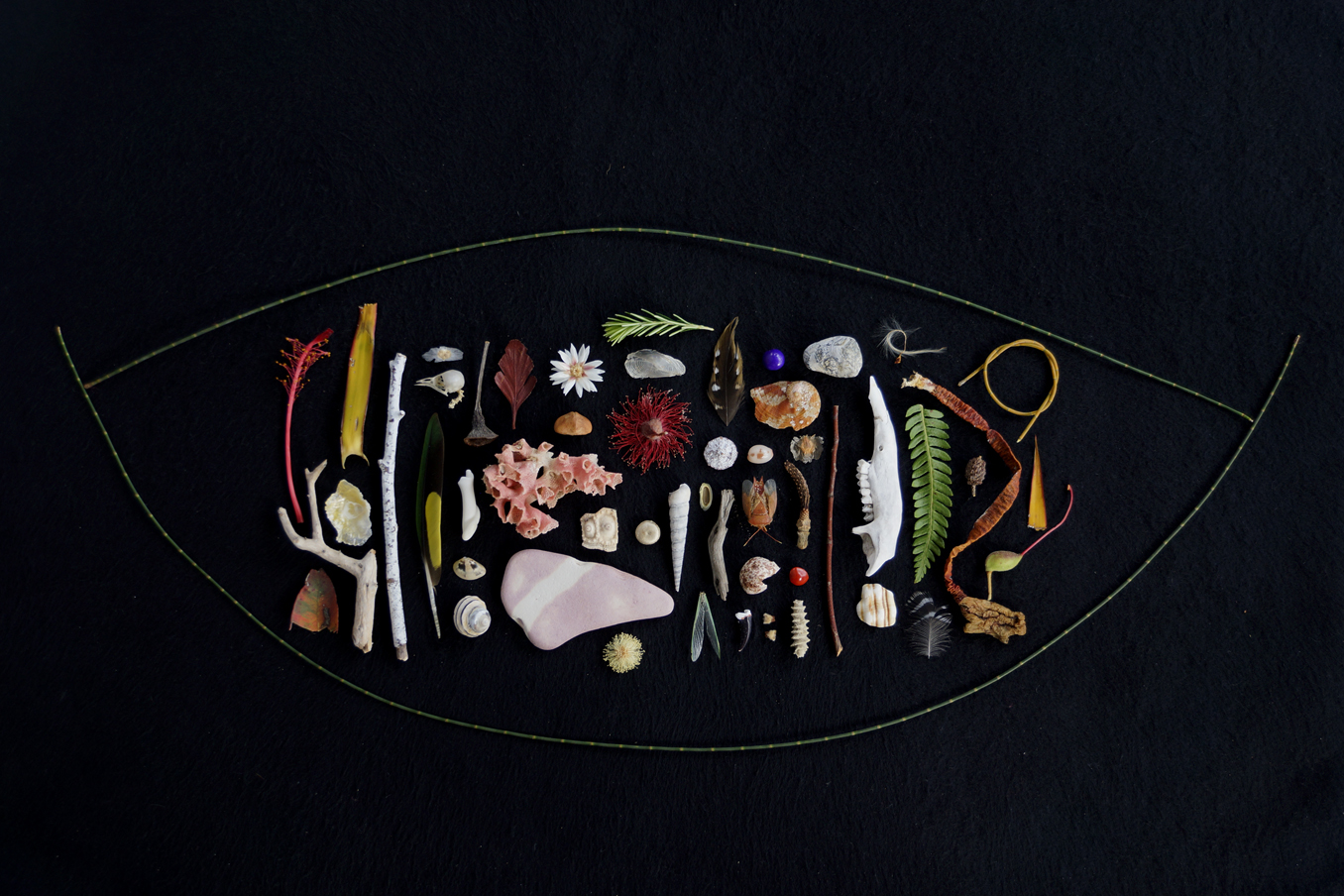 2010
'a walk in the woods'
 – ephemeral work – exists as photograph only – England, July – photo: the artist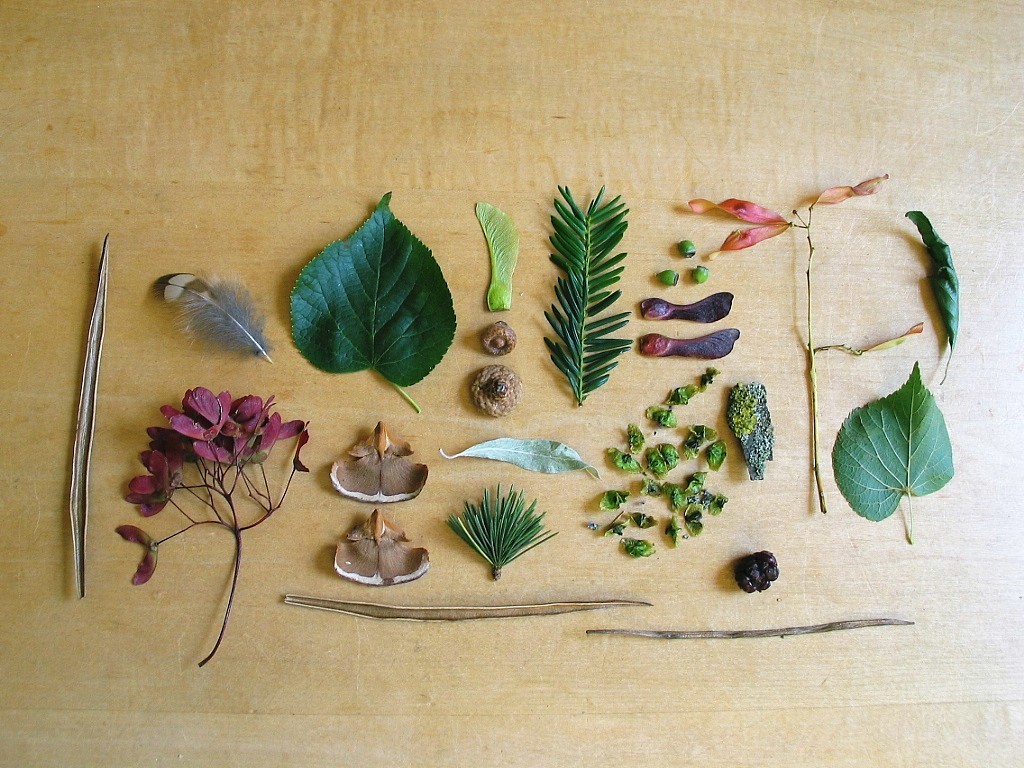 'a walk on the heath'
 – ephemeral work – exists as photograph only – England, July – photo: the artist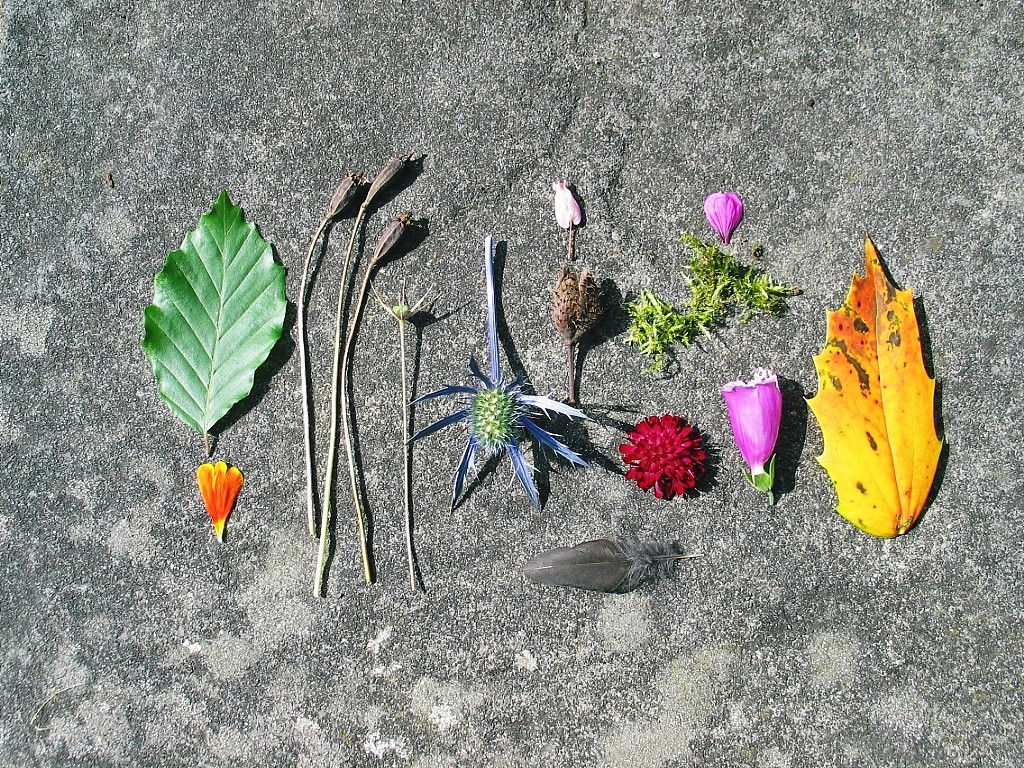 'winter and spring'
  – ephemeral work – exists as photograph only – England, July – photo: the artist

'on the moors'
 – ephemeral work – exists as photograph only – England, July – photo: the artist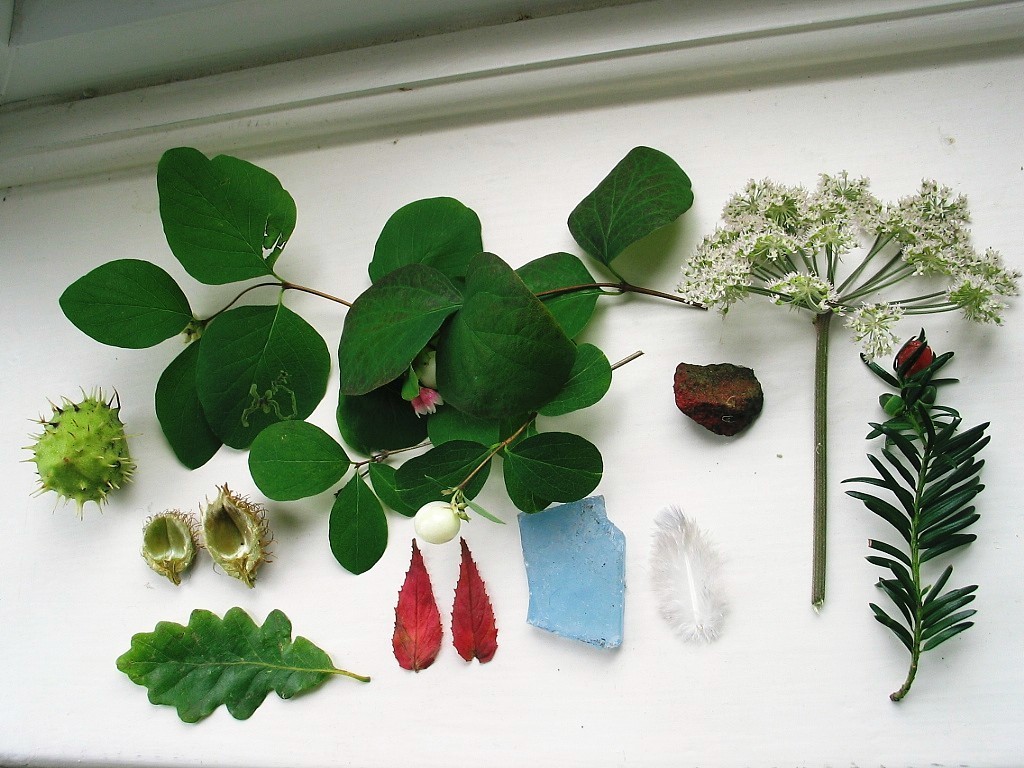 2006
'transience trance'
Ephemeral Art at the Invisible Lodge
ephemeral and site specific work made at Friendly Beaches, Freycinet, Tasmania.
commissioned by Joan Masterman.
Assisted by Gillian Marsden
'becoming'
2005
                              '…. He is walking on the water's light. and as I watch he takes the first step off it, moving slowly away now into the deepest distance, above the earth,
above the water, on air.'  From David Malouf, An Imaginary Life, Pan Books, Sydney, 1980
'woven forms' contemporary basket making in Australia
Object Gallery, Sydney
'Future Perfect'
 2003
Collaboration with writer and art critic Peter Timms on a project co-ordinated by Dick Bett and Gerard Castles bringing together writers, thinkers and visual artists responding to the Forestry debate in Tasmania and particularly the unwelcomed sponsorship of Forestry Tasmania with the 10 days on the Island Festival.
'eternal echoes'
2002
Site-specific installation commisioned by the University of Tasmania North-West Centre, Burnie.
A work made from seeds, 2.3 metres in diameter.
Seeds are potent symbols of the potentiality of life; of the archetypal mystery of nature; of our dependency on plants for nourishment; and of the magic of a tiny seed developing into a mighty tree. Seeds remind us of the essence of existence.
Ephemeral Sculpture Project  
2001

' in memory of…'
Site specific installation at new Queen Victoria Museum & Art Gallery, Inveresk, Launceston.
 Bridget Sullivan – Curator
Sieglinde Karl Spence – Installation
secret places
1996
a collaborative project
with funding from Contemporary Art Services Tasmania and a Pat Corrigan Artists Grant – and supported and assisted by Queen Victoria Museum and Art Gallery, Launceston.
Kate Hamilton – photographer
Sieglinde Karl – artworks
Ron Nagorcka – music
Hazel Smith – performance text
Artist Statement
Secret Places grew out of discussions with Hazel Smith concerning secret sites, hidden knowledge, invisible forces, psychological states of mind, ancient cultures and mythology. My own work was also informed by reading Carl Jung and Mircea Eliade, Overlay by Lucy Lippard, Dreaming with Open Eyes by Michael Tucker and Women who Run with the Wolves by Clarissa Pinkola Estes. Further inspiration was gleaned from contemplating the metamorphosis of butterflies and cicadas, and visits to ancient Aboriginal sites in Tasmania. These were the threads that were incorporated into the Casuarina Woman, interwoven with my own metamorphosis through the crises of middle life and a process of reconciliation with my German background.
Somewhere on the northern coast of Tasmania there is a Casuarina grove – my special secret place. From this site the Casuarina Woman grew, her needles gathered and stitched painstakingly. Workshops on basket-making given by Gwen Egg, Ruth Hadlow and Nalda Searles provided a technical starting point for the work. Using the ancient, time-consuming techniques of coiling and netting stitch, the body and limbs of the woman grew very slowly. It became an obsessive, hypnotic task which shifted my mind through painful periods of darkness and uncertainty, into dreamlike, timeless states of awareness, awakening a feeling of oneness with the earth – a spiritual dimension which nurtures love and healing.
Ceremony and ritual also played a part. On her completion, the Casuarina Woman was brought as an offering to the secret grove, at sunrise, and laid on the carpet of needles. Through this cremony, she was reintegrated with the site of her conception.
The Casuarina Woman has many possible dimensions, as Hazel Smith's text so aptly suggests. She is made from the enduring Casuarina tree, a genus that has adapted itself to all climatic zones of Australia and is able to endure long periods of drought. She is a woman of the earth, a woman longing for transcendence.
The collaborative installation seeks to suggest both the sublime and intimate qualities of place, to sharpen the senses and to create a dreamlike atmosphere, which may stimulate a process of self-examination.
excerpt from Secret Places catalogue – 1996
to the surface
1993
'Earthbound'
An exhibition of contemporary landscape art curated by Ray Arnold, Plimsoll Gallery, University of Tasmania Centre for the Arts, Hobart.
Group event.
Sundown Point offering
1992
Site-specific transitory work at Sundown Point, West Coast Tasmania.
Solo work, recorded photographically by Rory Spence.
Fragile Visions

1991
 Gateways at Fortesque Bay, Tasmania.       
 Group Event
My work at Fortesque Bay is based on the theme of boxes.
The word 'Box' suggests oppositions such as open/closed, inside/outside, intimate/infinite; and it can evoke ideas of confinement and protection. The box, casket, chest, cist, coffer and pyx have ancient and rich asociations with preciousness, sacred ritual and death. Word linkages concerning their contents come readily to mind – the ordinary, the extra-ordinary, the rare, the precious, the personal, the private, the secret, the powerful, the dangerous, the sinister, the supernatural, the magical, the sacred and the holy.
The work is as much about the site as the boxes within it. The intention is to intensify the intimate, enclosed character of the space which has been naturally created by the windblown form of the coastal Banksia tree.
The arrangement of the boxes suggests some mysterious meeting place, which turns out also to be a vantage point from which to view the bay with its entrance and protective headlands.
This work is intended to evoke layers of ambiguous meaning rather that suggesting a single interpretation. But for some it may bring to mind Jung's ideas concerning the soul; the outside representing the outer shell of the body and the inside symbolic of the precious but mysterious and vulnerable psyche.
'Dreams – Memories'
1991
Gatekeeper's Cottage (Queen Victoria Museum & Art Gallery annexe), Cataract Gorge, Launceston.
Solo event.
Installation/Audience Participation work
TransFIGUREd spirit
1990
ArtHouse, Launceston, Tasmania.
A Collaborative & Performance Piece
Hazel Smith – Text-Sound-music
Sieglinde Karl – Bodyworks / Installations
Graham Jones – Movement
TranceFIGUREd Spirit is a work which results from a collaboration initiated by Sieglinde Karl and myself and then later developed with performer Graham Jones.
It consists of visual installation and performed text-sound, music and movement.
The collaboration creates a dynamic, constantly changing relationship between text, sound, image and movement.
TranceFIGUREd Spirit is an abstract and symbolic work. The visual installation consists of huge enigmatic bodyworks made from paper, acacia branches and paperbark and the texts and musical notation blown up to life-size proportions. The bodyworks set up a tension between man-made and natural materials and are not conventional poems but are mosaics of words full of meanings which are discontinuous, multiple and overlaid. The texts are interspersed with, or accompanied by, musical events. They have to be heard as well as read and are complete only in performance.
While the visual installation is silent and static the performance brings the installation to life. The performer wears and animates the bodyworks and moves in relation to performances of texts and music. The bodyworks and texts pose certain problems which the performer has to solve creatively. This involves redefining movement in terms of large, fragile costumes which limit it, but at the same time responding to the movement – suggestive rhythms of the words. This dynamic interaction of opposites, a tension not only between movement and stasis but also between representation and abstraction, man and nature, external objects and internal states, is fundamental to the work.
TranceFIGUREd Spirit is about relationship between the body and language. Language exists as humanity's greatest  possibility for expression but also the greatest limitation on it. In TransFIGUREd Spirit language, inscribed in movement, symbolises (wo)man's attempt to find meaning in a world in which biological evolution has produced not only technological advancement, and art but also environmental destruction, economic deprivation and war.     Hazel Smith.
transience, place, memories
1988
Installation at Cockatoo Gallery, Launceston, Tasmania
Solo event.
Transience – Place – Memories
Sieglinde Karl's work infuses an ancient European concept of land and nature with the lessons of respect for the land, person and spirit learned from aboriginal cultures. Wreaths and garlands are potent symbols in myth and tradition. The use of flowers, allegories of constant death and rebirth in nature are represented in myth by those who destroyed themselves or who were destroyed by the gods: Ajax, Adonis, Crocus, Hyacinth, Klytrax and Narcissus.
On Garland Day at Abbotsbury in Dorset wreaths are ceremoniously taken down to the beach and taken out to sea in boats where they were thrown out into the waves to bring luck to the makerel fishing. An aboriginal woman wears a mourning wreath of bones hiding her face, thereby making her more visible to the spirit of her husband. At the gallery Sieglinde Karl sits weaving wreaths and garlands from material gathered from gardens and beaches and bush. The walls and floors fill up, new works being added daily. People come bringing offerings, anything from roses to a dead mouse. They also bring stories and memories which become absorbed into the exhibition, deepening and enriching its meaning. It is in process, growing, but also transient. She is working with flowers, grasses,leaves seeds and twigs, budding and then dying; far removed from a jeweller's traditional materials which outlast the wearer. For although she trained as a jeweller she cannot be described as such. All her work has a connection with the body which she feels sets up a dialogue between work and viewer and personalises their experience. Sieglinde Karl's work is alive with a deep appreciation of the simple and important things. The work of the British land artist Andy Goldsworthy, who contrives intricate poetry from the delicate selection of natural materials, is a major inspiration as are the potent reconstructions of Richard Long. The desire for the European to find understanding and respite in the natural world is shared by all three and in this work we are invited to share too.
Miranda Morris-Nunn & Jane Deeth